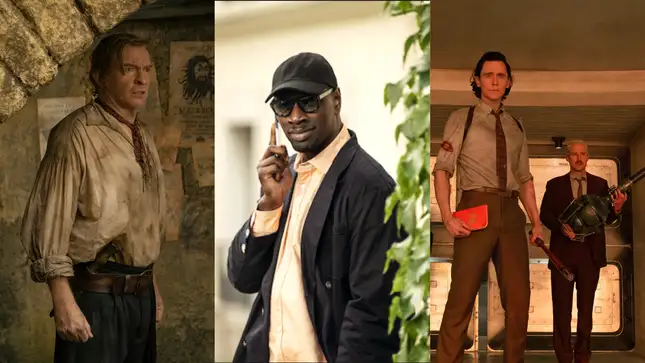 Welcome to What's On, our weekly picks of must-watch shows. Here's what you need to watch from Sunday, October 1 to Thursday, October 5. All times are Eastern. [Note: The weekend edition of What's On drops on Fridays.]

Gugu Mbatha-Raw spills on season 2 of "Surface" and "Loki"
---
The biggies
Our Flag Means Death (Max, Thursday, 3:01 a.m.)
David Jenkins' unexpectedly delightful and sappy pirate comedy Our Flag Means Death is back for round two. Set in the 18th century, the show centers on pampered gentleman pirate Stede Bonnet (Rhys Darby), who is determined to make a career out of robbing ships at sea. His plans shift when he meets and falls for the elusive Blackbeard (Taika Waititi), who reciprocates his feelings. In season two, they'll have to navigate relationship problems while dealing with new foes and friends, like Minnie Driver's Anne Bonny. The cast includes Con O'Neill, Samson Kayo, Kristian Nairn, Vico Ortiz, and Leslie Jones. Our Flag will premiere with three episodes. The A.V. Club will recap the show weekly.
---
Lupin (Netflix, Thursday, 3:01 a.m.)
Acclaimed French hit Lupin is back with its long-anticipated third season. The mystery thriller follows Assane Diop (Omar Sy), who is inspired by the fictional thief Arsène Lupin. He turns into an expert burglar to extract revenge from the rich family who falsely imprisoned his father. In the new episodes, Assane is still in hiding, struggling to live without his wife and son. But, of course, he returns to Paris to seek them out—only to fall back into familiar criminal patterns.
---
Loki (Disney+, Thursday, 9 p.m.)
It's a good week to be a dapper, mischief-seeking criminal. First Our Flag Means Death and Lupin, and now Loki. The Disney+ Marvel series is back for season two, with Tom Hiddleston reprising his titular role. Loki spent season one trying to escape from captivity at the Time Variance Authority. In the new episodes, he's right back where he started, except he wants to help his new friends face a powerful new enemy. Owen Wilson, Gugu Mbatha-Raw, Sophia Di Martino, Wunmi Mosaku, and Eugene Cordero return, with Oscar winner Ke Huy Quan joining the cast. (We still don't know how Loki will handle Jonathan Majors' Kang.) Loki breaks the streamer's pattern and will air new episodes at 9 p.m. ET instead of dropping them at midnight. The A.V. Club will recap the show weekly.
---
Hidden gems
Chucky (Peacock, Wednesday, 3:01 a.m.)
The funniest, cruelest, tiniest villain of all time returns in Chucky's third season. SYFY's drama now finds Chucky (voiced by Brad Dourif) residing at the White House, making sure he kills people at the highest political level in America. Meanwhile, Hackensack's favorite teen trio—Jake (Zachary Arthur), Lexy (Alyvia Alyn Lind), and Devon (Björgvin Arnarson)—make their way from New Jersey to Washington D.C. in another attempt to kill their insane nemesis. Season three is split into two halves, with four episodes airing in October and the remaining four scheduled for next year. The A.V. Club's review publishes on Monday.
---
Everything Now (Netflix, Thursday, 3:01 a.m.)
Talk To Me's Sophie Wilde leads the British dramedy Everything Now as 17-year-old Mia Polanco, who rejoins sixth form after her anorexia led to a lengthy hospital stay. To try and catch up with her friends, who have seemingly moved on without her, Mia makes a bucket list of all the firsts she wants to attempt and finds a new community in the process. The cast includes Stephen Fry, Niamh McCormack, Vivienne Acheampong, and Lauryn Ajufo.
---
Bargain (Paramount+, Thursday, 3:01 a.m.)
Paramount+ adds to its K-drama slate with Bargain. Based on Lee Chung-hyun's short film, the action drama follows strangers who are trapped in a remote motel after an earthquake. With no one else to trust, they have to try and team up to survive.
---
More good stuff
Fright Krewe (Hulu, Monday, 12:01 a.m.)
Eli Roth's 10-episode animated-horror comedy Fright Krewe follows a group of misfit teens in New Orleans who are thrust into an adventure to save the world from a demonic threat. That might be an easier task for them than forming friendships. The show drops on Hulu and Peacock simultaneously.
---
Beckham (Netflix, Wednesday, 3:01 a.m.)
Oscar-winner Fisher Stevens directs the four-part docuseries Beckham about (obviously) global icon and football star David Beckham. The project gives fans an inside look at Beckham's life, family, friends, and fellow players. Expect interviews with his wife Victoria and other notable names like Sir Alex Ferguson, Mel C, Paul Scholes, Gary Neville, and Eric Cantona.
---
Can't miss recaps
Only Murders In The Building (Hulu, Tuesday, 12:01 a.m., season three finale)
The Morning Show (Apple TV+, Wednesday, 12:01 a.m.)
Ahsoka (Disney+, Wednesday, 3:01 a.m., season one finale)
Gen V (Prime Video, Friday, 12:01 a.m.)  
The Great British Bake Off (Netflix, Friday, 3:01 a.m.)
---
Arriving now
The Simpsons season 35, Bob's Burgers season 14, Family Guy season 22 (FOX, Sunday, 8:30-10 p.m.)
Magnum P.I. (NBC, Wednesday, 9 p.m., season five premiere)
SurrealEstate (Syfy, Wednesday, 10 p.m., season two premiere)
---
Ending soon
Ride With Norman Reedus (AMC, Sunday, 10 p.m., season six finale)