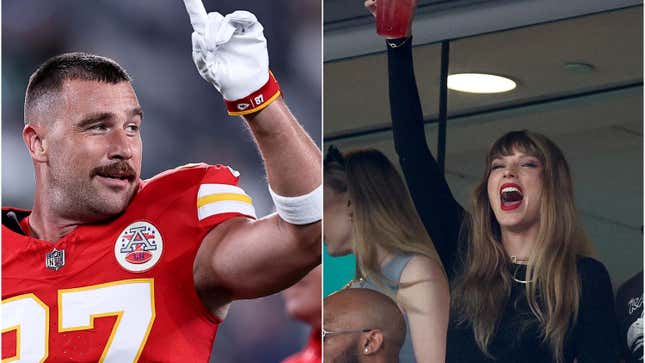 By now you've probably heard that Taylor Swift attended another football game. Already nearly impossible to ignore on her own, Swift's partnership with the NFL—or, um, with Travis Kelce—has reached heretofore unthinkable levels of stratospheric fame. Last week, she posed next to a couple of condiments and had brands tripping over themselves to market "seemingly ranch." This week, she became a champion for divorceés everywhere by including both Sophie Turner and Hugh Jackman in her suite squad for the Jets/Chiefs game. Who cares about what's happening on the field when Taylor Swift is up in the stands?
Travis Kelce admires Taylor Swift's proverbial ballsiness
Unsurprisingly, the Kansas City Chiefs organization cares, and it would like to "keep the focus on football," according to a source for CBS Sports. This is a big team of defending Super Bowl champions, and despite the ongoing wins, the whirlwind Swift romance storyline pulls focus from the fact that they're, well, defending Super Bowl champions. Just look at the TikTok trend of people asking football fans how they feel about "Taylor Swift putting Travis Kelce on the map." (Kelce, for one, has a sense of humor about it.)
The NFL is also cognizant that "We don't want to get to a place where we're turning off our most avid fans," as its SVP of Social, Influencer & Content Marketing Ian Trombetta told CBS Sports. But while Trombetta says the NFL won't risk "over commercializing" the relationship, the NFL has nevertheless quite literally commercialized the relationship. An ad for Sunday Night Football ahead of the Chiefs/Jets showdown featured Swift's song "Welcome To New York," with the social media tagline "Taylor Made for Sunday Night."
Then there's the game itself, which featured plenty of cutaways up to Swift's suite with her famous friends, and lots of Swiftie references from commentators. The league made its official X/Twitter header image reaction shots of the singer at the game, and changed its bio to "we had the best day with you today," a nod to a lyric off the Fearless album.
The league may be wary of alienating hardcore football fans who find the pop star's presence a distraction, but it obviously can't resist courting a new demographic. The first game Swift attended saw a 63% spike in women viewers aged 18-49, per Front Office Sports. And while Trombetta boasted of the league's "almost 50%" female fanbase to CBS Sports, he admitted that Gen Z is an "elusive demographic" in an interview with USA Today. "We've been really leaning in and reaching out to more casual audiences, or people who are not watching football every single moment or watching every week," he said. "We're finding adjacencies in music, gaming, and fashion."
Swift, whose economic impact is undeniable, is a very tantalizing adjacency. Plus, she already had a well-established partnership with the NFL before Travis Kelce came along. She previously made key album announcements during NFL programs, including broadcasting a Midnights teaser during Thursday Night Football or announcing the first single off of Lover during the NFL Draft. Sunday night's Chiefs/Jets game featured an ad for The Eras Tour concert film, which is already projected to smash ticket records.
So Swift and the NFL clearly have something of a symbiotic relationship, but there are obviously benefits for Travis Kelce, too. His jersey sales have spiked; his social media following ballooned; and his podcast with brother Jason Kelce, who plays for the Eagles, rocketed to #1 on Apple's charts. The athlete had his own commercials for Experian debit cards, the Pfizer COVID vaccine, and State Farm run during Sunday night's game, and continued association with Swift is likely to boost his profile further. Case in point: Kelce's mother Donna watched the Eagles game with "Jake from State Farm," a stunt E! News reports was
"orchestrated Taylor's friend Ryan Reynolds' Maximum Effort production company." "Jake" posted a selfie with Donna proclaiming to be in his "red era" (a reference to Swift's album). Meanwhile, Donna departed Philadelphia to join Swift and Reynolds in their suite at the New York game.
Spectators can debate whether Swift and Kelce's relationship is genuine or a public relations concoction, but there's no denying that a lot of people have profited from it in the two weeks since this story began. Trombetta says the NFL will stop short of being "stationed outside of Taylor's house trying to get photos and things like that," but somebody sold pictures of Kelce supposedly leaving Swift's apartment on Sunday morning—despite somehow also adhering to his team's strict 11 PM Saturday night curfew, per a Page Six source.
"It's really authentic," Trombetta claimed of the Swift/Kelce phenomenon in his chat with CBS Sports. "You can tell the Swift fans they really care about her. And it's amazing. And I would say the same thing for our fans. They really, really care deeply about the game and about the players. You combine those two things together, it results in this explosion of coverage and excitement and speculation. So we'll see where this goes."
To USA Today, Trombetta added: "She's invited to any game that she wants to come to. It's an open invitation."