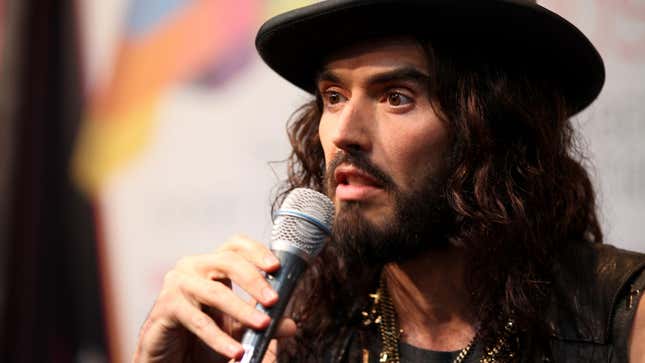 Russell Brand is now being investigated by Thames Valley Police over an allegation of "harassment and stalking" from another woman, according to the BBC. Brand faces several allegations of sexual assault in the wake of the Channel 4 documentary Russell Brand: In Plain Sight: Dispatches. The Thames Valley investigation comes on top of a Metropolitan Police investigation into a "number of allegations of sexual offenses" occurring between 2006 and 2013.
Here's Patrick Stewart's biggest regret, according to Patrick Stewart
In regards to the harassment and stalking claims, this accuser apparently reported her allegations "numerous times between 2018 and 2022 but no further action was taken," per the BBC. Thames Valley Police are now looking into "new information" in the case, but told the outlet, "it would be inappropriate to comment on an ongoing investigation." Brand himself reportedly accused the woman of harassment in 2017.
The comedian has denied all of the allegations against him, saying in a statement that all of his relationships have been consensual. He has gone on to imply that "legacy media" was aligned against him, saying in a video, "It appears that apparently independent or at least separate news organizations are collaborating—and I hesitate to use this word—conspiring to control global news narratives in some of the most important stories in the world."
The Channel 4 documentary, a joint investigation with The Times and The Sunday Times, featured stories from four women alleging assault against Brand, including one who was just 16 at the time of her encounter with him. The Metropolitan Police subsequently received additional allegations regarding "non-recent" offenses, including an "alleged sexual assault in Soho, central London, in 2003," according to the BBC. In a statement, the Met's Central Specialist Crime Command Det Supt Andy Furphy said, "We continue to encourage anyone who believes they may have been a victim of a sexual offense, no matter how long ago it was, to contact us."