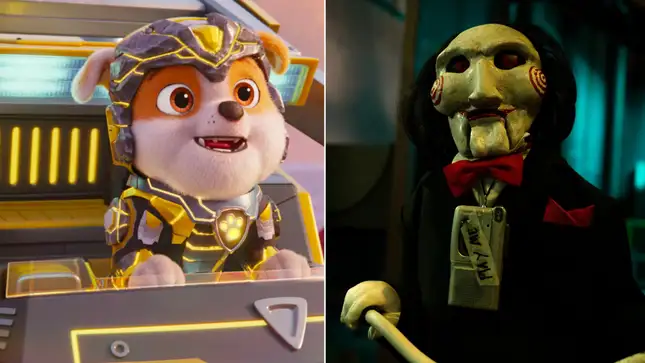 For 10 movies now, the law enforcement officers of the world have tried and failed to apprehend the serial killer known as Jigsaw (though he was dead for a chunk of those movies), but apparently all it took to get the job done was a bunch of dogs with cars—or whatever the heck PAW Patrol is. The kid-beloved franchise's latest cinematic spin-off PAW Patrol: The Mighty Movie opened at the top of the domestic charts this weekend with $23 million, enough to somewhat comfortably beat second place's Saw X (debuting with $18 million) and third place's The Creator (debuting at $14 million). The puppies may be on top, but it's a good weekend for new films either way.
You can now buy a Weird Barbie — but isn't that missing the point?
Those three all handily trounced the winner of the last few weeks, The Nun II, which made $4.6 million in its fourth week and has a total of $76 million. Finishing out the top five is another newcomer, but this one is… less exciting than even the one about dogs who have wheels fighting an evil mayor: The Blind, a church-y biopic about right-wing nut Phil Robertson (one of the guys from Duck Dynasty). It made $4 million, presumably from some of the same people who made Sound Of Freedom a hit.
The bottom five is almost entirely movies that were in the top five last week: A Haunting In Venice, Dumb Money, The Equalizer 3, Expend4bles (falling 69 percent in its second week), and—a real shocker—Barbie, which dropped five places in its 11th week and may drop out of the top 10 entirely by next week. It has made $633 million, so it's fine.
The full top 10 in list form, from Box Office Mojo, is below.
PAW Patrol: The Mighty Movie
Saw X
The Creator
The Nun II
The Blind
A Haunting In Venice
Dumb Money
The Equalizer 3
Expend4bles
Barbie