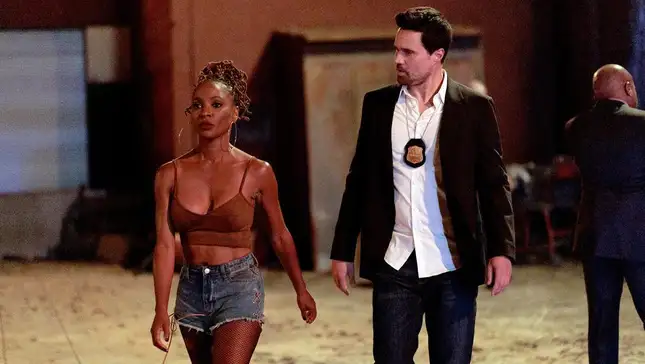 Let's get one thing out of the way: Found, the latest series from All American showrunner Nkechi Okoro Carroll that premieres October 3 on NBC, is not your average procedural. Sure, on a purely superficial level, you could argue that the crime drama, one of the only network shows to debut this fall because of the strikes, seems pretty standard: The series follows the lives of public-relations specialist Gabi Mosley (Shanola Hampton) and her crisis-management team who find marginalized people who are routinely overlooked by the authorities and mainstream media due to a lack of interest or resources. (Think Scandal, but for missing people of color.)
Here's Patrick Stewart's biggest regret, according to Patrick Stewart
Gabi has assembled a group of vigilantes (their words, not ours) who each have a personal experience with the trauma of kidnapping. There's an attention-oriented law student (Gabrielle Walsh's Lacey Quinn); an emotionally distant private investigator (Karan Oberoi's Dhan Rana); a behavioral specialist (Kelli Williams' Margaret Reed); and an agoraphobic tech whiz (Arlen Escarpeta's Zeke Wallace), who is using his family's money to bankroll Gabi's firm. There's also Detective Mark Trent (Brett Dalton), who effectively acts as the liaison between the DCPD and Mosley & Associates.
But wait, there's more: Two decades after she was held captive herself as a 16-year-old, Gabi has now kidnapped her former kidnapper, Hugh Evans, a.k.a. Sir (a terrifying Mark-Paul Gosselaar, in a role unlike anything he has done before) and has been using him to help her crack each case, unbeknownst to her colleagues. That juicy twist helps to elevate Found beyond the standard, case-of-the-week format into a compelling character study of how differently people heal (or don't) from traumatic, life-changing events—all while shining a light on the real-life efforts of non-profit organizations such as the Black and Missing Foundation. (According to NBC, in any given year, more than 600,000 people are reported missing in the U.S. and more than half of them are people of color.) By any measure, Found runs rings around Alert: Missing Persons Unit, a poorly executed procedural that debuted on FOX earlier this year, and is at its strongest when the actors and writers lean into the show's inherently soapier tendencies.
In her first major role since wrapping up an 11-season run as Veronica Fisher in the Showtime family dramedy Shameless, Hampton commands the screen as a woman grappling with the unresolved trauma of being abducted for a year and the realization that she, now having flipped the script, may share more similarities with her abductor than she may be willing to admit. Hampton's Gabi is easily the most interesting character in every scene; her ability to hold a close-up and convey both the urgency with which her team needs to act and the empathy with which she needs to console a distressed family member or friend of the missing—sometimes toggling between both within the same scene—is particularly impressive. Okoro Carroll, no stranger to exploring the heightened inner lives of messy and flawed Black characters, seems interested in pushing back against the trope of the strong Black woman, and Hampton convincingly portrays a protagonist whose intricate web of lies begins to spin out of control.
For a new procedural to cut through the noise in a crowded TV landscape, it needs to have a strong foundation: Each standalone plot has to be satisfying and surprising, while the overarching storyline has to be advanced steadily. The show's intricately woven flashbacks (with Azaria Carter playing the teenage Gabi) help to contextualize Gabi and Sir's fascinating dynamic, which pushes both characters into morally grey territory. While it's obvious that Sir, who insists that he took Gabi from her family to help turn her into the best (or arguably worst) version of herself, has the upper hand in the past, it remains difficult to tell who is in control in the present timeline: Is Sir in charge because he has shaped so many of Gabi's idiosyncrasies? Or does Gabi, having physically chained Sir up in her basement, have the upper hand? Hampton and Gosselaar remain so evenly matched that your answer may change from week to week, and while their one-on-one scenes may verge on melodrama, they are the glue that holds this deliciously unhinged show together.
Found focuses on cases involving people from underrepresented groups—a young Black girl, an elderly Black man who has another Black male admirer, and a sex worker all make up some of the early victims—and it's, ultimately, the female characters who do the emotional heavy lifting during most of the cases. Williams, best known for her work on David E. Kelley's legal drama The Practice, gives a particularly gut-wrenching performance as a mother unable to move on from the disappearance of her son, while Walsh, whose character shares a special bond with Gabi that is revealed at the end of the pilot, adds much-needed levity to an otherwise heavy show.
The women here, over the five episodes screened for review, remain eminently more interesting than the men. While Sir is an aloof and enigmatic presence in Gabi's past and continues to torment her in the present, the other guys who work with her feel less compelling by comparison, since they only seem to exist thus far to serve Gabi's crusade. Whatever brief glimpses we get of their lives away from their jobs with Gabi—if we get any at all—still aren't enough to make us understand what she saw in them initially or why they are worth rooting for. (To be fair, that may simply be an unfortunate consequence of the 42-minute runtime on network TV.) But that's a pretty minor complaint—and, all in all, the show delivers on its promise, offering a fresh and sudsy take on the archetypes and hallmarks of a well-worn genre.
Found premieres October 3 on NBC