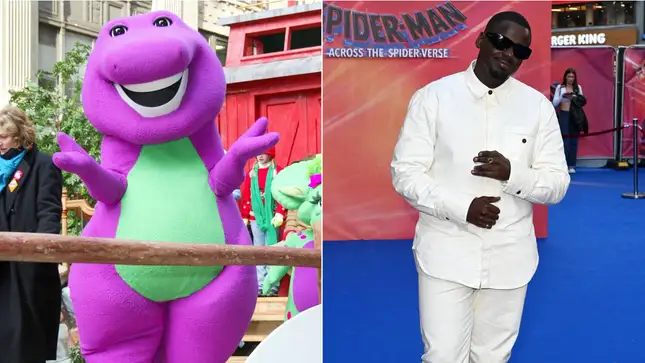 Sometimes, an exec utters a word so perfect and at the same time commits a marketing gaffe so egregious that you just know it will find its way into film writing (at least, this writer's film writing) for years to come. In this case, that special little word is "odd."
Here's Patrick Stewart's biggest regret, according to Patrick Stewart
If you were excited for Daniel Kaluuya's "surrealistic," "A24-type" Barney movie—as anyone earnestly excited for the Barney movie probably was—you may need to dramatically lower your expectations. "That one is getting a lot of reaction," Mattel CEO Ynon Kreiz told Semafor, referring to Mattel Films VP Kevin McKeon's much-dissected tease to The New Yorker.
In that July story, McKeon had compared the upcoming film to the work of Charlie Kaufman and Spike Jonze, and suggested that the studio was "leaning into the millennial angst of the property rather than fine-tuning this for kids." More specifically, it will "focus on some of the trials and tribulations of being thirtysomething, growing up with Barney—just the level of disenchantment within the generation." "It would be so daring of us, and really underscore that we're here to make art," McKeon concluded back in July.
But Kreiz would like everyone to know that millennial-angst Barney won't, in the words of the viral Twitter/X meme, be bad art (nor will it make you feel weird or spit on beauty and actively celebrate ugliness.) It will be very good art, and it will not, under any circumstances, be "odd." So get that out of your head.
"It's too early to be specific, but I can tell you we are taking a fresh approach that will be fun, entertaining and culturally oriented," Kreiz said in the latest interview, published on Saturday. "It will not be an odd movie."
If this sounds like an intriguing and genuinely weird concept neutered into flat, corporate nonsense, Kreiz would probably say otherwise. In the same interview, the CEO opined that box office juggernaut Barbie wasn't made to "sell more toys" but to create "quality content that people want to watch." (Barbie isn't even really a toy, apparently; she's a "concept.") Maybe the studio will figure out that people actually want some oddness in their toy movies when J.J. Abrams' Hot Wheels or the Vin Diesel-starring Rock 'Em Sock 'Em Robots finally go into production. Until then, it sounds like Barney may still be the same old purple dinosaur.