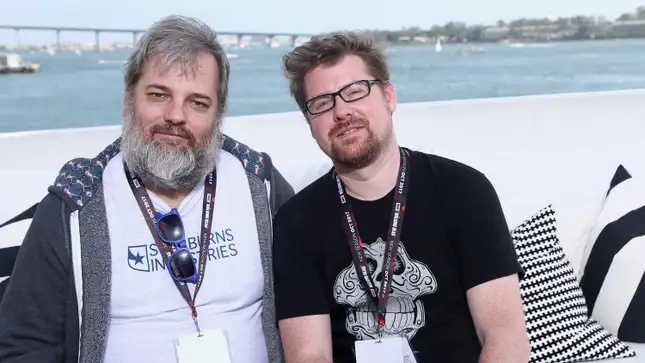 Dan Harmon is still hurt over his bitter falling out with former friend and Rick And Morty co-creator Justin Roiland, which is why the formerly gregarious showrunner has kept silent about the whole affair until now.
Ryan Reynolds and Rob McElhenney are doing the race car thing now
News first broke that Roiland was facing felony domestic violence charges this past January. While those charges were later dropped due to insufficient evidence, Adult Swim still cut ties with the voice behind both leads of its most popular show following years of alleged behind-the-scenes workplace harassment. Earlier this month, multiple new allegations of sexual misconduct against Roiland were also reported.
For Harmon, Roiland initially represented a chance at a perfect partnership for a network that actually believed in him (Harmon's struggles to produce Community for NBC have been well documented.) In a wide-ranging profile, Harmon told The Hollywood Reporter that he thought he would be the story guy and Roiland would be the one with the zany ideas. While Harmon reportedly never really saw Rick And Morty as his show—Roiland had initially conceived of both the characters and concept—he moved to bring on a bunch of Community alums to beef up the writers' room as the show gained popularity going into its second season. "If I had felt like I was imposing something, I would have never done it," he said, acknowledging that this decision was what led to the eventual split.
He continued:
If anything, what I wanted was for Justin and I both to be able to be increasingly lazy and not show up for work. That was the dream... We'd be these rich idea men. He could roll around and go, like, 'What if a genie had a butt instead of a dick?' And I could be like, 'Yeah, and plus, we're going to make people cry about it, and that's going to make them freak out. It's a story about a genie butt dick, but then we'd win an Emmy, and it'd be more ironic than ever.' And then I'd come to find out later that it was like, 'Oh, Harmon brought in his Harmon writers,' and, man, that is not how I saw it.
Roiland retreated from the show over the course of the following seasons; a "substantial number of staffers" never even met him, according to The Hollywood Reporter. A mediator was brought in, which didn't help, and eventually, Roiland stopped showing up altogether.
The last time the two men spoke was over text in 2019. "He said things that he'd never said before about being unhappy, and I remember saying to him the last time we spoke in person, like, 'I am worried about you, and I don't know what to do about that except to give you all the string...' But then this conversation became unprecedentedly confrontational," Harmon recalled of the exchange that reportedly left him "in tears."
That was as far as Harmon was willing to take the story until further reports of Roiland's alleged sexual misconduct (Roiland has denied the allegations) emerged earlier this month. Harmon reopened the issue with THR, stating:
The easiest thing for me to say about Justin has been nothing. Easy because he isolated so well and easy because I'm nobody's first choice as a judge of anything or anyone. This is where I'd love to change the subject to myself, to what a piece of crap I've been my whole public life. I would feel so safe and comfortable making this about me, but that trick is worthless here and dangerous to others. It's other people's safety and comfort that got damaged while I obsessed over a cartoon's quality. Trust has now been violated between countless people and a show designed to please them. I'm frustrated, ashamed and heartbroken that a lot of hard work, joy and passion can be leveraged to exploit and harm strangers.
Rick And Morty will air its seventh season with a currently unknown new voice actor on October 15.