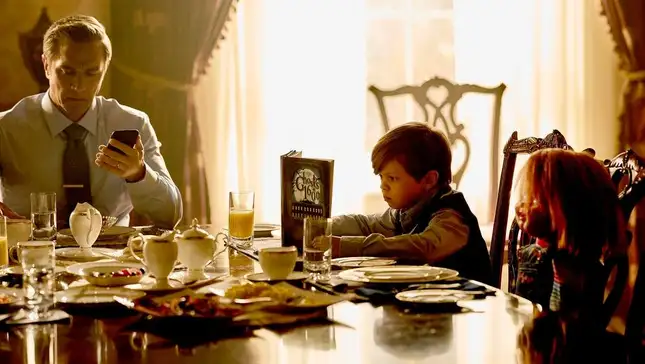 Chucky has done it again—no, not just resurrection and murder, of which there is plenty in season three. The show has found fresh and menacing ways to dial up its slasher premise, making it this year's most exuberant Halloween-timed watch. It's pretty remarkable considering series creator Don Mancini's first Child's Play film launched in 1988. With him still at the helm, the horror-comedy franchise continues reinventing itself in 2023 without being tedious. Plus, how can it ever be boring with Chucky (voiced by a spectacular Brad Dourif) as a driving force? The spiky red-haired, remorseless, filthy, farcical killer doll was designed to entertain. And he does his job well in the (sadly) split but smashing season three. The first half, consisting of four-episodes, premieres October 4 on SYFY.
Here's Patrick Stewart's biggest regret, according to Patrick Stewart
The success stems from an unabashed commitment to weird risk taking. Yes, of course, Chucky is implausible. The series begs you to fling logic out the window in audacious ways. It has always embraced campiness, letting the Good Guy Doll run amok as it gleefully slices, stabs, and shoots victims in heightened situations. The new episodes don't just maintain a gory momentum; they elevate it, which is usually a big hurdle while adapting slashers into a long-running TV show. Thankfully, Chucky's writers are up for the challenge in season three. The deaths are bloody disgusting (at least a couple of them will make you want to retch), and the humor is top-notch (our tiny villain visits the doctor at one point, donning a blue hospital gown and everything). What truly sets it apart, though, is its unique setting.
"Previously on fucking Chucky," as every episode opening goes, he's terrorized suburban New Jersey and a private Catholic school. Now he sets his sights on Washington D.C., taking over one of the most notorious notable homes in America. That's right: Chucky resides in the White House, and the juicy reveal of why he chose the place makes everything 10 times funnier (no spoilers here). He manipulates himself into being the beloved new toy of Henry Collins (Callum Vinson), the youngest son of President James (Devon Sawa, playing his fourth role on the show). The doll, which holds the splintered soul of serial killer Charles Lee Ray, wastes no time increasing the body count. Heads are maimed and destroyed, necks are strangled—and even the Oval Office is the scene of a brutal kill. But the visual gag of a tiny Chucky rejoicing on the President's chair? Unmatched. This eccentricity makes Chucky a riot despite the grim material.
Don't worry, his three teen foes from New Jersey haven't forgotten about him. Jake (Zachary Arthur), Devon (Björgvin Arnarson), and Lexy (Alyvia Alyn Lind) are back, determined to hunt down their nemesis while grieving the family members he killed. Lexy desperately searches for her kidnapped younger sister. Meanwhile, Jake and Devon struggle to take the next step in their romantic relationship. But once they realize Chucky's whereabouts (he calls to taunt them, Ghostface-style), the trio sets off for D.C. with their caretaker/teacher, Rachel Fairchild (Annie M. Briggs), in tow.
Now, remember how we said don't question the show's logic? Chucky is about a psychotic doll who bleeds, loves taking selfies, complains about bad wi-fi, and revels in murder. With this absurd reality in mind, it's easy to buy that Lexy quickly tricks the President's moody older son, Grant (Jackson Kelly), by befriending him on social media. That's the least bizarre storyline here, trust us. Lexy gets them an invite to the First Family's home for their costume Halloween ball (yes, Chucky dresses up). So what if a killer is on the loose and random people in the White House are dying? The spooky masquerade party must go on. Those are the well-established rules of horror.
Narratively speaking, season three is more akin to the original Child's Play than the film's sequels. In lieu of Andy Barclay (Alex Vincent), Chucky exploits the grief and loneliness of another young boy in Henry. He's also on a mission to save himself after learning distressing news about Damballa, the voodoo spirit that gives Charles Lee Ray's soul the power to survive in different bodies. (It's a whole thing.) Chucky resoundingly updates these familiar concepts, with Dourif expertly navigating his role yet again.
No one's having more fun than him, except maybe Jennifer Tilly, who milks every damn second of her screen time. In the show's complex world, Chucky's lover, Tiffany Valentine, has transferred her soul into the body of the actor, so Tilly's playing two roles at once. (Again, it's a whole thing.) She has her own installment this time around, the superbly titled "Jennifer's Body," which takes some expectedly outlandish turns and finds her imprisoned for 103 murder charges (as if living behind bars would halt her maniacal tendencies).
In only four episodes, Chucky season three cements itself as the show's best yet, leaving us holding our breath for the back half in 2024. It's unforgivingly savage with its massacres and one-liners, dropping perfect pop-culture references (Twin Peaks, Austin Butler's Elvis accent, The Amityville Horror, and Outer Banks, to name a few) along the way. It'll leave you chortling and covering your eyes at the same time, with a not-so-subtle message about today's political climate. And as far as horror comedies go, what more could you ask for?
Chucky season three premieres October 4 on on SYFY