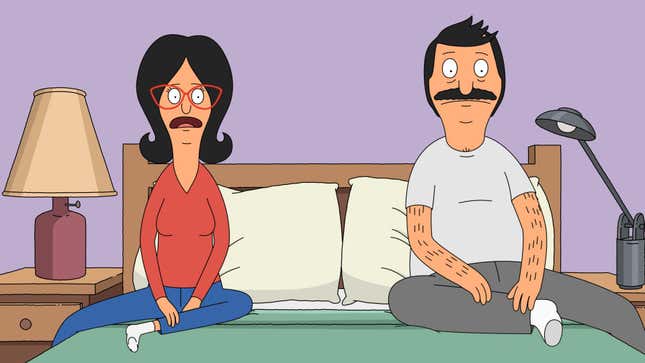 Over the course of its 12 years on the air, Bob's Burgers has become one of television's most unlikely wish-fulfillment series. And if that seems odd considering the main character is a schlubby guy running a barely profitable greasy spoon in a dead-end town, then you haven't met the Belchers.
Here's Patrick Stewart's biggest regret, according to Patrick Stewart
TV audiences love a dysfunctional family, from the Simpsons to the Roys—which is what makes Bob, Linda, and their brood such outliers. Are they barely making ends meet? Sure. Do they whiff every ambitious project they attempt? Yep. Does Louise escape way too many scrapes with death for a fourth grader? Of course. But they love the ever-living crap out of each other—and every failure, whether it's a get-rich-quick scheme or a disastrous recipe, is just further proof that these weirdos will never stop trying to make each other smile.

The two episodes made available to critics of the show's 14th season, which premieres October 1 on FOX, are functionally about how much we all secretly (or not so secretly) wish we were Belchers. That's particularly true of the second installment, a gently heartbreaking deep dive into one of the series' least flamboyant side characters. (Listen, it can't always be the Fischoeders.)

"The Amazing Rudy" is an outside-looking-in episode in the vein of South Park's "Butters' Very Own Episode" or Buffy The Vampire Slayer's "The Zeppo." It centers on Regular-Sized Rudy, a kid literally defined by his averageness, as he preps for an awkward night out with his divorced parents and their new partners. A little time with Rudy and his dad (both voiced by character-acting legend Brian Huskey) demonstrates just how tightly wound both of them are—and the ways that kind of well-meaning anxiety can get passed down between generations.

It's why, when Rudy spots the three Belcher kids hanging out by a fountain at the mall—Louise (Kristen Schaal) contemplating diving for pennies while Gene (Eugene Mirman) contemplates soaking his stinky feet and Tina (Dan Mintz) hems and haws—their life looks like a sort of fantasy to him. Bob and Linda can't afford a night at a fancy restaurant like Rudy's parents can, but they're an unbreakable unit who'll do anything for each other—even if that means suffering through "loaded baked potato lasagna," an abomination of an entrée straight out of Gene's fever dreams.

"The Amazing Rudy" is a perfect encapsulation of the humanism at the heart of Bob's Burgers. Though Loren Bouchard's series excels at wacky set pieces (see: toilet turkeys, secret Christmas drag theater, a Thomas Edison musical), there are none here—and there don't need to be. Regular-Sized Rudy's regular-sized sadness—and the Belcher's well-meaning attempts to help him get through it—ring true for anyone who grew up with divorced parents, grappled with the loneliness of being an only child, or even just glimpsed a happy-looking family across the mall and wondered what they were missing.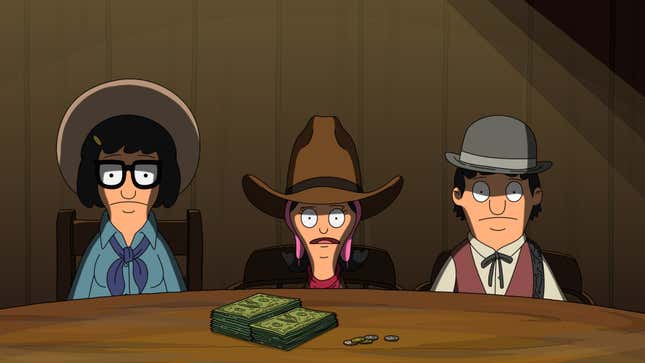 The season premiere, "Fight At The Not Okay Chore-ral," is a classic entry in the Bob's canon, in which Bob and Linda's well-meaning attempt at active parenting devolves into chaos. Pressured into it by her own mom, Linda (John Roberts) decides it's time that the kids started doing chores on the weekends. ("Didn't we try those before and we were all like, 'Nahhh'?" Gene says.) When the kids go on a Louise-led sleep strike in protest, Bob (H. Jon Benjamin) tries the educational bedtime story approach—which is really just an excuse for Bouchard & Co. to play around in the Old West sandbox. That means Tina gets a horse named Pepperoni with rippling pec muscles, Gene gets a handheld player piano ("Because it's cutting edge!"), and Louise gets giant cowboy boots with spurs on the front and back.

As the townspeople and the "Married Sheriffs" take turns wresting the narrative reins from each other's hands, the episode becomes a glorious "yes and" bouquet of spaghetti-western tropes. But in spite of all the silliness (or maybe because of it) "Fight At The Not Okay Chore-ral" is also a meditation on what families owe to each other—particularly when it comes to mothers and daughters. Bob's doesn't need to go this hard, but it does—and the adult-cartoon landscape is all the richer for it.

Given enough time on the air, any show, no matter how beloved, is bound to lose its flavor. But somehow, even after all this time, Bob's never has. Fourteen seasons in, the bloom isn't off the bloomin' onion—and we hope we'll be bellying up to the burger counter for many years to come.
Bob's Burgers season 14 premieres October 1 on FOX