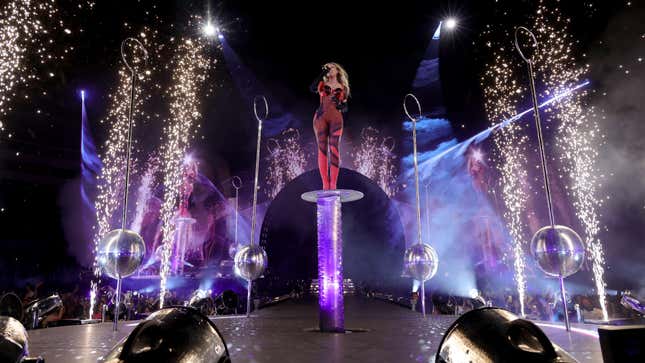 Although it doesn't come out for another two weeks, Taylor Swift's upcoming concert film The Eras Tour is already a bona fide box office success—with pre-sales for the movie heading steadily toward the $100 million mark. (Swift's film, documenting her incredibly popular run of recent shows, has so much buzz around it that multiple studios have been swapping movies out of its October 13 release slot in a bid to not get buried by Taylor-mania.) Now, it sounds like AMC Theaters (which co-handled distribution on the Eras, which bypassed the traditional studio apparatus) is gearing up for its next big concert film release: A movie version of Beyoncé's Renaissance World Tour.
Judy Garland's previously missing Wizard of Oz dress to be auctioned off
This is per Deadline, which reports on multiple sources saying a movie version of the Renaissance tour is in the works, with an eye toward releasing on December 1. (AMC has yet to comment on any of it, for what it's worth.) The theater chain will once again reportedly skip over the studios for direct distribution, as AMC attempts to sidestep what is expected to be a pretty tepid fall and winter box office. The film version of the massively popular concert was reportedly filmed earlier in September, in Beyoncé's hometown of Houston.
Besides giving fans a chance to get close looks at a concert that has been extremely hard to get tickets to, the hypothetical concert film will also provide a whole bunch of data for people who just want to see two musical superstars indirectly duke it out; someone's going to win at the box office here, between two of the biggest concert draws on the planet, and it'll be fascinating to see who it is. And while the Swifties are obviously very vocal in their enthusiasm, it never pays to count the Beyhive out: Beyoncé's Renaissance World Tour is scheduled to finish today (possibly with an announcement of the movie), and has been her most ridiculously successful tour to date; critics have raved over it, and the whole endeavor has brought in something like half-a-billion dollars over the last few months.