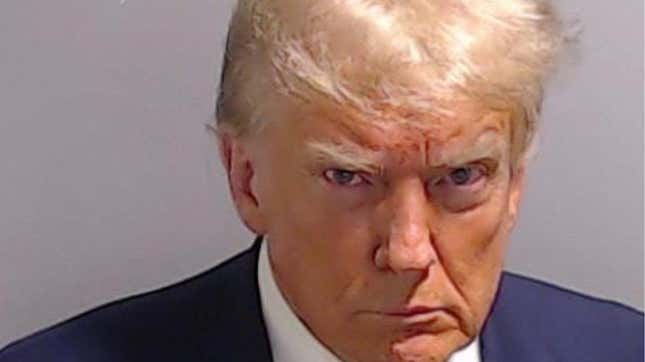 Every so often, the good people of X.com (sigh) band together to show the world what Elon Musk is really squandering—the unadulterated fun of dunking on some of the worst people in the world. This writer has had four favorite days on the doomed site: Four Seasons Total Landscaping, Rudy Giuliani Leaky Hair Dye, Trump Has COVID, and now Trump Mugshot Day. If and when Twitter/X/whatever goes dark for good, at least we've all been gifted this meme-filled Mount Rushmore to carry us through the dark times.
Here's Patrick Stewart's biggest regret, according to Patrick Stewart
On Thursday night, a photo of Inmate No. P01135809 popped up in the jail records for Fulton County, Georgia. He has blue eyes, "blond or strawberry blond" hair (time to queue up some Mitski), weighs 215 pounds, and stands at 6 feet 3 inches (sometimes). Trump may have turned himself into prison (for only 20 minutes, reportedly) on charges of election interference, but in doing so he also surrendered himself to the masses for a Tyra Banks-esque photo critique. And critique they did, in a searing, specific, and incredibly catty tone that even the infamous host would have to respect.
Others took a moment to celebrate famous mugshots of yore—an art form as much as glamming up to snap the perfect driver's license photo—and found that, even here, the 45th president simply doesn't measure up.
It's a real shame Succession (and Veep, for that matter) ended before this historic day, because The Shot would have absolutely found its way into an instantly iconic plotline if so. Luckily, we don't have to wonder too much because the internet, of course, already did it for us. Even Gerri actor J. Smith-Cameron took a moment to get in on the fun.
But in general, X did what X does best: made fancams, referenced other celebrities, and generally had a grand old time. Trump may have made history as the first U.S. president (current or former) to sit for a mugshot, but he also definitely made history as the first to be this quickly downloaded into reaction pic folders across the country. It's the closest he'll likely ever get to winning a popular vote, so we guess it's a good thing he's enjoying it while he can.