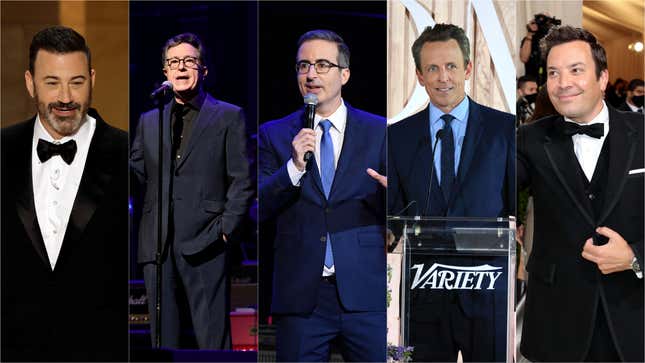 The end of the writers strike really is a groundbreaking event for our culture: among many other things, it convinced five men who really love talking to actually give up a podcast. Historic!
Three hits and one miss from Jimmy Kimmel's monologue
The esteemed members of the "Strike Force Five" pod—that is, Jimmy Kimmel, Stephen Colbert, Jimmy Fallon, Seth Meyers, and John Oliver—announced their retirement from the world of audio-only content today in an Instagram post lauding their own (tongue-in-cheek) contributions to the nearly five-month movement.
In addition to the real reveal of the post—that Conan O'Brien was supposed to do a guest spot that never materialized due to the pesky little inconvenience of the strike being over—the hosts also made another, slightly less important announcement. Now that writers are allowed to return to work, late night is coming back to television as soon as this Sunday.
As Variety predicted, (almost) all of the five hosts have set a return for the same day, presumably to maintain the sense of solidarity they fostered with the podcast. Jimmy Kimmel Live, The Late Show With Stephen Colbert, The Tonight Show Starring Jimmy Fallon, and Late Night With Seth Meyers will all air their first episode in nearly five months on Monday, October 2. HBO's Last Week Tonight With John Oliver will air the preceding night—October 1—in its usual Sunday timeslot.
After initially announcing (and then un-announcing) his return before the strike ended, Bill Maher will also be back on television this Friday, per a post on X. Premiere dates have not yet been set for other daytime talk shows like The Drew Barrymore Show, The Talk, The Jennifer Hudson Show, and others.
While actors are still on the picket lines, they will be able to appear on talk shows as long as they don't promote any struck work, as these programs are covered under a different section of the contract (per The Hollywood Reporter). None of the hosts have announced guest line-ups as of yet, but it seems like at least one of them may owe Conan O'Brien for his missed podcast cameo.